The term "dynamic visibility" of content means to change what content appears to website visitors under certain conditions. One of the must popular platforms to build website is WordPress, therefore we will give you an introduction to plugins for the famous Elementor page builder, that will let you change the visibility of content.
We will also give you an alternative solution if you prefer using the standard WordPress Block Editor (Also known as Gutenberg) instead of Elementor.
How Dynamic Content can help your business
One of the main reasons for using a dynamic visibility plugin is to manage the way content is delivered to visitors. You can be creative and create marketing campaigns, build membership site, scheduled content and much more.
Dynamic visibility plugins have tons of conditions or parameters that can be set anytime. Some of these usual conditions are membership levels, devices, metadata, URL strings, and customized settings. Combined with the flexibility of Elementor, a dynamic visibility plugin can truly benefit any WordPress site.
Top plugins to choose from
Now that you're aware of the importance of dynamic visibility, you should check out some of the best content visibility plugins for Elementor in the market today.
JetEngine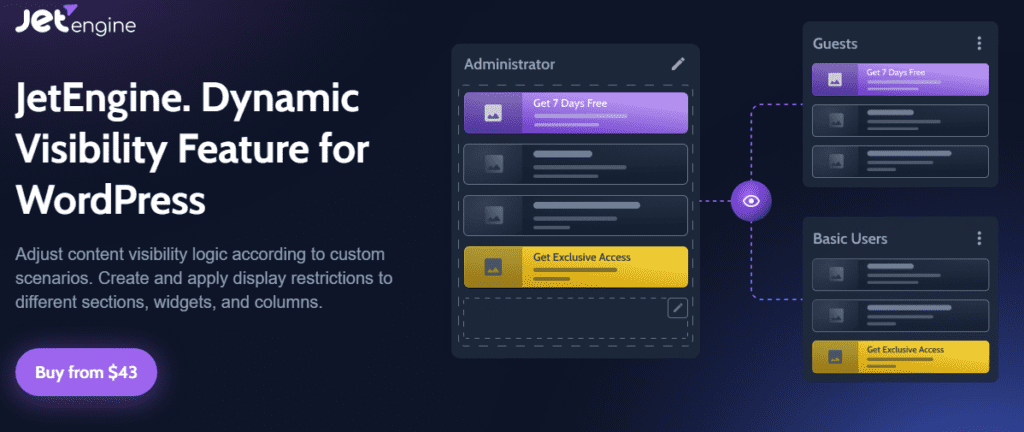 Strengths:
Available with other useful plugins from Crocoblock
Seamlessly compatible with Elementor
Offers tons of pre-designed blocks and page templates
JetEngine is a plugin designed to build custom content types in WordPress. It also offers numerous dynamic visibility parameters that any user can set. JetEngine's content types can be accessed through the Elementor main editor. Additionally, JetEngine is just one part of a collection of plugins known as JetPlugins.
Here are some of the dynamic visibility parameters offered by JetEngine:
Custom post
Custom field selection
Taxonomy conditions
Form data and management
Data lists
Dynamic calendar option
Dynamic galleries
The capabilities of JetEngine are somehow limited to custom fields, posts, and taxonomies. Still, these options are usually enough to unlock the full visibility potential of any page or post designed through Elementor.
One of the best things about JetEngine is its connection with tons of other plugins built by Crocoblock. By subscribing to the Crocoblock plan, you can get JetEngine along with other useful plugins like JetElements, JetBlog, JetWooBuilder, JetSearch, JetAppointment, and JetSmartFilters. It's like getting multiple products at one price!
Visibility Logic by StaxWp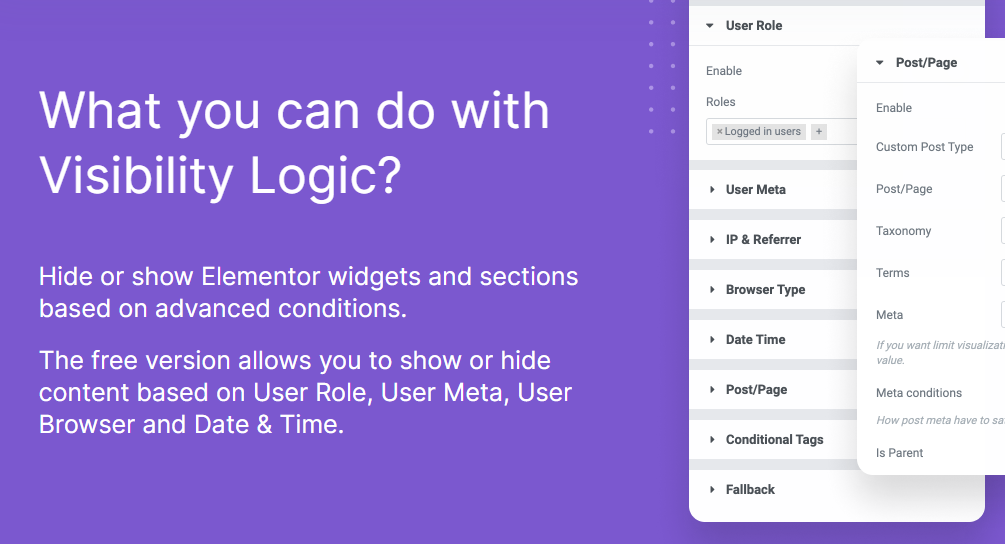 Strengths:
Different parameters and content restriction methods
Easy integration with Elementor
Fallback function (shows message instead of hiding the element)
Visibility Logic is another plugin that offers dynamic visibility conditions for any WordPress site. Some of the best things about Visibility Logic are flexible restriction settings, ease of access, and full integration with Elementor Pro tags. Visibility Logic also offers advanced options for the free version unlike the basic conditions of some plugins.
The pro version of Visibility Logic has some interesting features. Archive restriction, for example, allows you to restrict content based on post types and custom taxonomies. There's also a Fallback function that shows a message to site visitors and readers instead of hiding the entire element.
Dynamic Visibility by Dynamic.ooo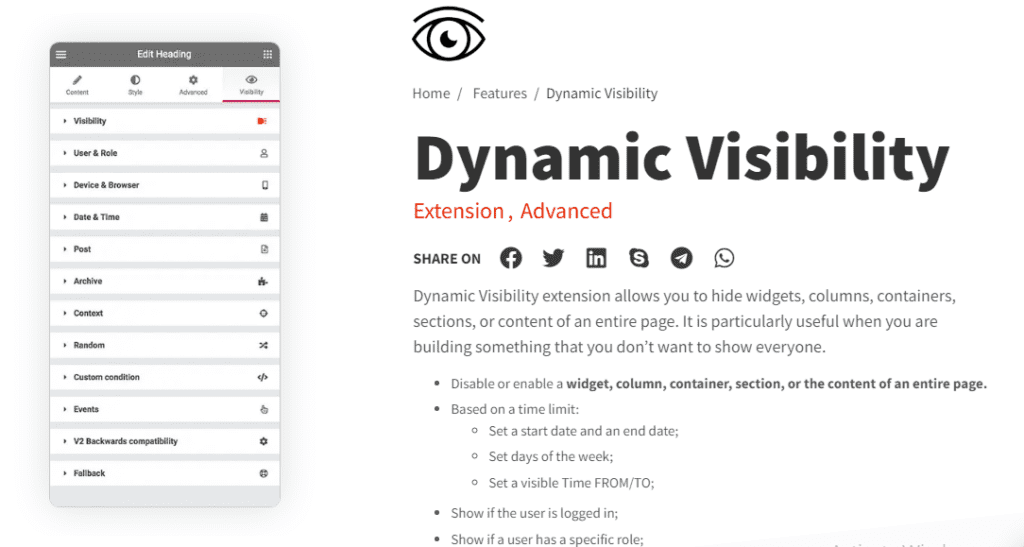 Strengths:
Lots of free conditions
Unique premium conditions and parameters
Easy to use
The Dynamic Visibility plugin by Dynamic.ooo is a great option for beginners. The biggest advantage of Dynamic.ooo plugin is the number of conditions available in the free version. Some of the free conditions are time limit, geotargeting, archive metadata, dynamic tags, specific events, user meta roles, logged-in/logged-out, IP, and browser setting. The premium version allows the creation of custom parameters. Additionally, you can use the My FastApp app builder plugin under the Dynamic.ooo premium version.
Additionally, Dynamic.ooo's documentation page feels incomplete. An incomplete documentation page can leave beginners confused regarding the implementation of plugin conditions.
Alternative to Elementor
Elementor is a great page builder, though the WordPress Block Editor itself is improving at a rapid rate! Therefore, it's a good time to switch to the WordPress Block Editor. Don't worry you can still control the visibility of your content with Conditional Blocks.
Use Conditional Blocks with the WordPress Editor
Conditional Blocks with WordPress is our best alternative to Elementor & the plugins mentioned above.
Conditional Blocks is a no-code plugin that allows you to control the visibility of your site content through different parameters. Whether you're a beginner or a professional, you can definitely use Conditional Blocks' parameters to fully customize the visibility of your website content.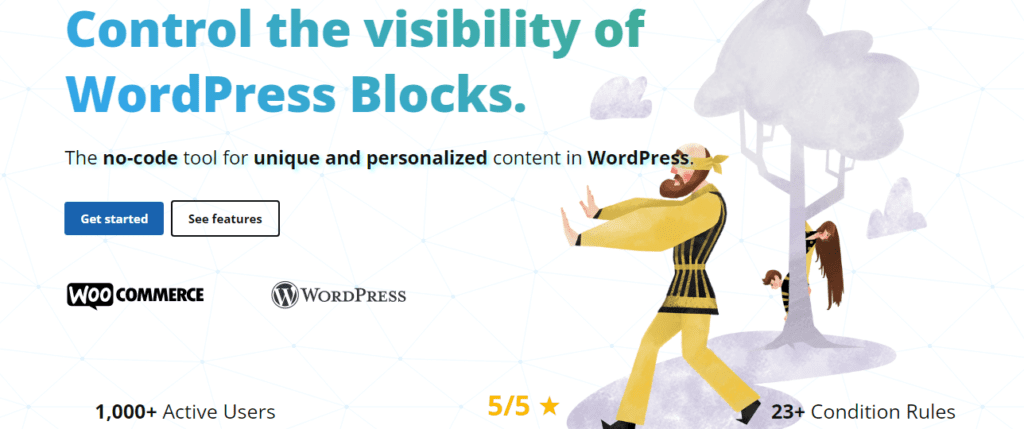 These are the potential advantages of Conditional Blocks:
Ease of Access
Conditional Blocks is an easy plugin to use. Adding conditions to a block will take less than a minute. Additionally, the plugin has an indicator that shows which block has a specific condition installed. You don't need programming or coding experience to use Conditional Blocks' conditions but it can surely help.
Upselling Made Easy
Upselling your products or services can now be easier with the help of Conditional Blocks' URL query strings. These strings can be set on a dynamic condition through specific variables or settings. URL query strings are great for confirmation pages, newsletter content, and other types of form plugins.
Perfect Content Scheduling
Combined with the functionalities of the WordPress Block Editor, Conditional Blocks will help you publish content on the right schedule. This is possible through the implementation of Date Range Condition – a feature that allows automatic content publishing based on specific date ranges.
Lots of Conditions to Tinker With
Conditional Blocks offers 14+ conditions to help you adjust content visibility according to different parameters. Some of the plugin's popular conditions are logged-in/logged-out, lockdown, responsive (screen sizes), use roles & meta, URL query strings, HTTP user devices, HTTP domain referrers, post metadata, and taxonomies. Check out the Conditional Blocks documentation page to learn more about the plugin's conditions.
What Are the Use Cases of Conditional Blocks?
Conditional Blocks is not just the average dynamic visibility plugin. It has tons of use cases that can match the goals and preferences of any website owner.
These are the popular use cases of Conditional Blocks:
Exclusive content distribution for registered and non-registered users
Seamless creation of pages with recurring site content and styles
Specific audience targeting based on scheduled content and parameters
Easy content management for online stores with pricing tables
Dynamic adjustment of upsell pages
'Teaser' content creation and scheduling
Final Remarks
You don't have to pay too much to get the best dynamic visibility plugin for your website. In fact, you don't have to pay anything at all! Most of the plugins presented in this article have free versions that you can test out. But if you're looking for a plugin that combines the best of free and premium versions, you can always rely on Conditional Blocks.
Here's a recap of the most reliable dynamic visibility plugins today:
1. JetEngine by Crocoblock
2. Visibility Logic by StaxWP
3. Dynamic Visibility by Dynamic.ooo
4. Conditional Blocks for the WordPress Block Editor
Are you excited to use visibility conditions for your website? Get Conditional Blocks today and try out 14+ conditions!