Have you ever wondered if there's an effective way of hiding content in WordPress? Well, you can find the solution by using a reliable content restriction plugin. Basically, a content restriction plugin allows you to hide and show content blocks according to specific parameters. Most content restriction plugins have different conditions that can be triggered once certain situations are properly met.
In this article, you'll learn about the best content restriction plugins for WordPress. Additionally, you'll learn how to use these plugins to maximize exposure for your website.
Why Should You Use a Content Restriction Plugin for Your Website?
Using a content restriction plugin can help increase the marketing effectiveness of your website. For example, you can reveal content only to your target market. Some of the best content types are discount promos, product announcements, thank-you messages, and exclusive blog posts for site members.
A content restriction plugin can also be used to build trust. If customers see that your website has exclusive or special messages, they will feel happier or more interested. In turn, the customers will patronize your business more. Just keep in mind that the positive effect won't happen overnight. You may need to use different combinations of content restriction conditions and strategies.
Best Content Restriction Plugins for Your WordPress Site
We've reviewed some of the best content restriction plugins in the market today. These plugins may operate similar to each other, but they actually have distinct traits and strengths.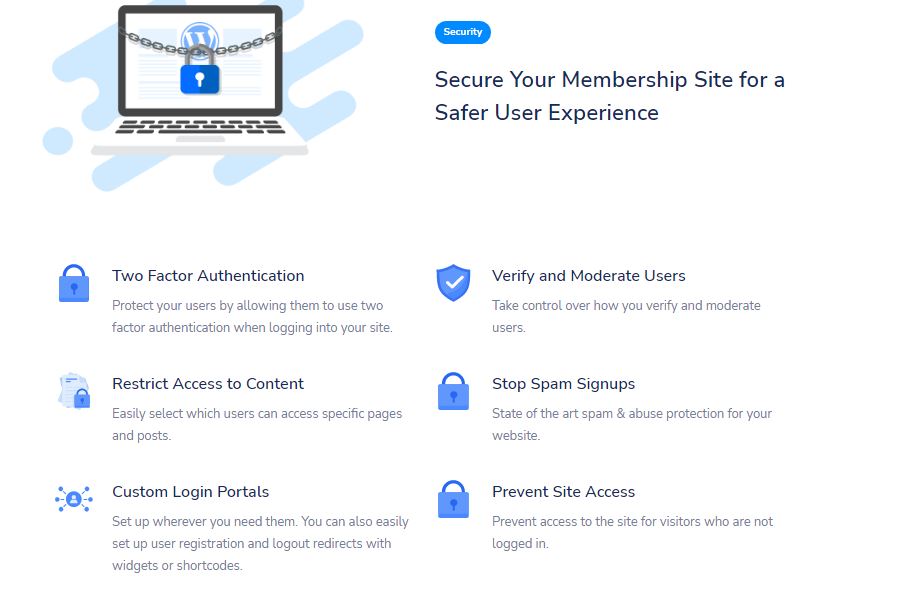 Best Features:
Highly customizable content restriction plugin
Easy user profile creation
Offers customizable user directories for easy member management
WP User Manager is a beginner-friendly, all-in-one suite for building membership sites. With WP User Manager, you can use different functions to build and grow your WordPress membership site. Some of the best features of WP User Manager are registration form creation, easy user profile creation, widget embedding, user role customization, and WooCommerce integration.
Additionally, WP User Manager allows content restriction through special conditional logic. This conditional logic is useful for modifying all visible fields like content blocks, forms, URLs, taxonomy, and even sub-fields. The conditional logic function is only available for WP User Manager's premium option.
WP User Manager's content restriction capabilities are exclusive to logged-in users and specific user roles. Since WP User Manager is simple and efficient, it will allow you to set up restrictions in less than a minute. Plus, you can also define each user role to match your restriction preferences.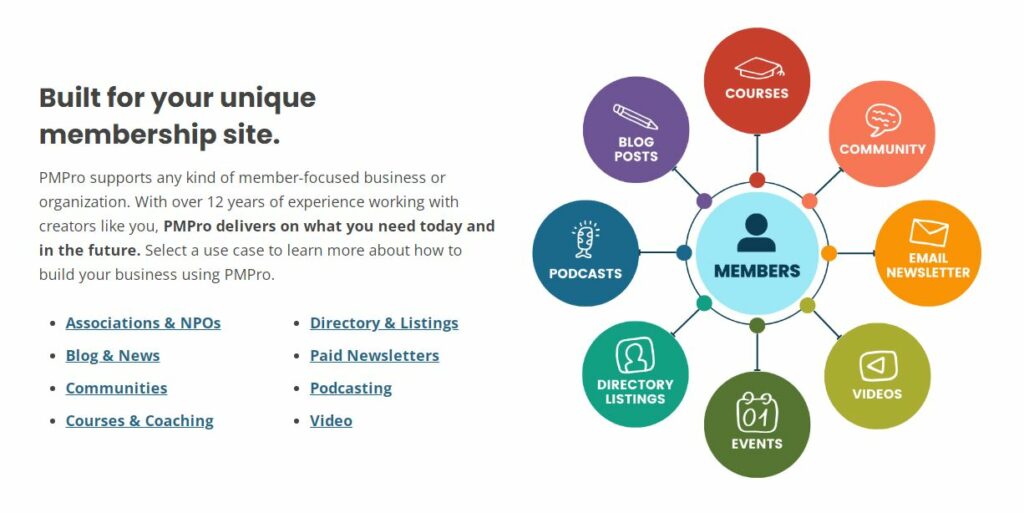 Best Features:
WooCommerce-friendly
A complete plugin suite for membership sites
Shortcodes are easy to remember
Paid Memberships Pro is an excellent content restriction plugin for membership sites. It offers numerous useful functions such as easy WooCommerce integration, membership payment gateway, and membership plan setup. Paid Memberships Pro also allows content restriction with Conditional Blocks setup in less than a minute.
Paid Memberships Pro can restrict content according to member login status, partial display, page template, and even customized conditions for Elementor. Moreover, the available shortcodes for Paid Memberships Pro are easy to memorize and set up. The shortcodes are necessary for basic functions like membership page activation, password recovery, and member login form creation.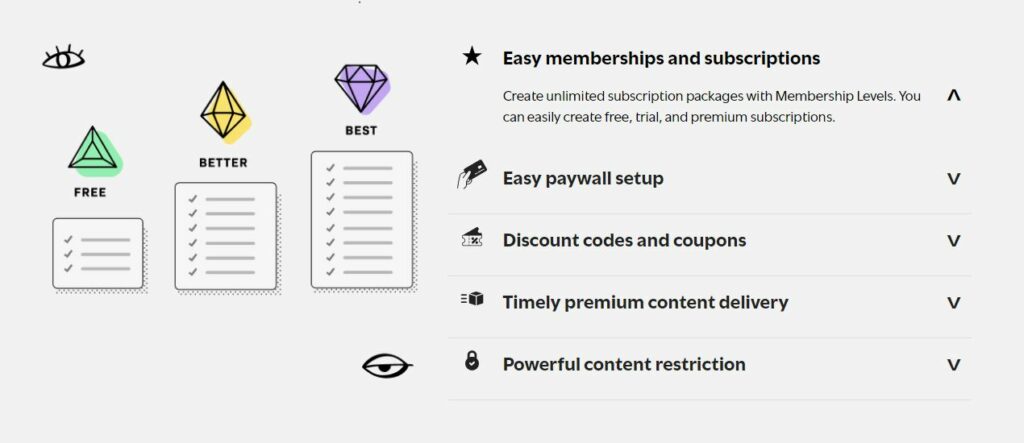 Best Features:
Full membership subscription packages
Easy theme selection and integration
Easy integration with other plugins
If you're looking for a straightforward content restriction plugin with eCommerce support, you can never go wrong with Restrict Content Pro. Basically, Restrict Content Pro can be used for all types of WordPress membership sites and blogs. With the help of Restrict Content Pro, you can show or hide content based on page settings, custom post type, categories, user roles, access level, and membership. Restrict Content Pro is also beginner-friendly, and it allows content restriction with just a few clicks.
Aside from restricting content, Restrict Content Pro is also useful for membership plan setups. Instead of setting up a lackluster membership page, you can use Restrict Content Pro to build a page based on different parameters like membership cost and value delivery. You can even combine this function with content restriction settings to achieve a better effect in terms of marketing or customer targeting.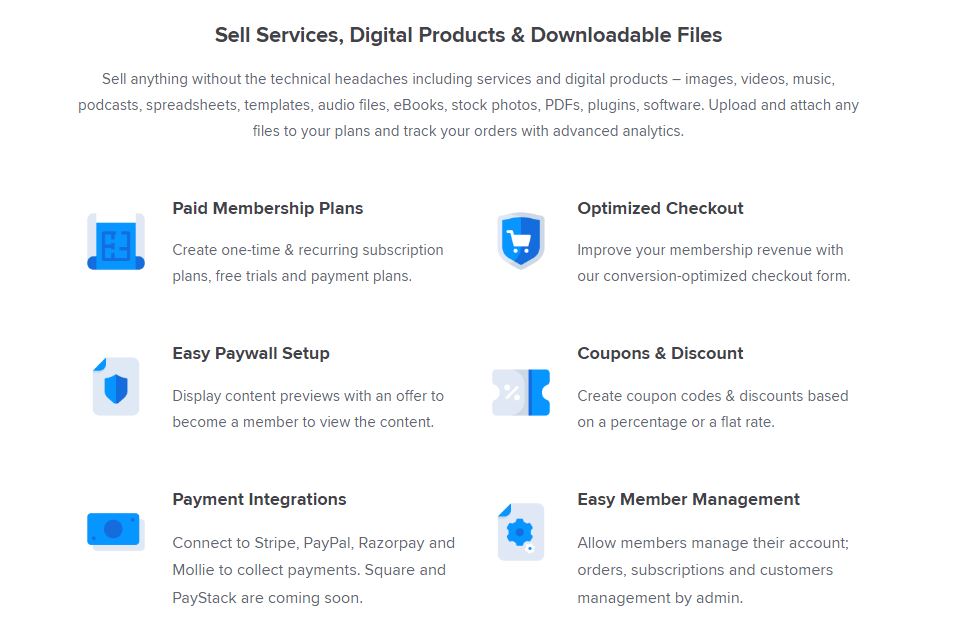 Best Features:
Easy-to-use and customizable profile templates
Allows custom form creation from scratch
Flexible member management function
ProfilePress is one of the easiest plugins to use when it comes to content restriction and member management. Basically, you can use ProfilePress to make distinct user profiles for your membership site. ProfilePress also has a no-code functionality, allowing you to make user profiles even if you don't have coding experience. Some of the best functions of ProfilePress are membership plan creation and customization, form templates, easy paywall setup, discount code setup, and well-organized member directories.
Content restriction is also a popular service offered by ProfilePress. The plugin can restrict content based on numerous parameters like pages, user profiles, CPT (custom post types), and custom taxonomies. The content restriction function of ProfilePress is included on its standard pricing account and has a membership level integration with Conditional Blocks.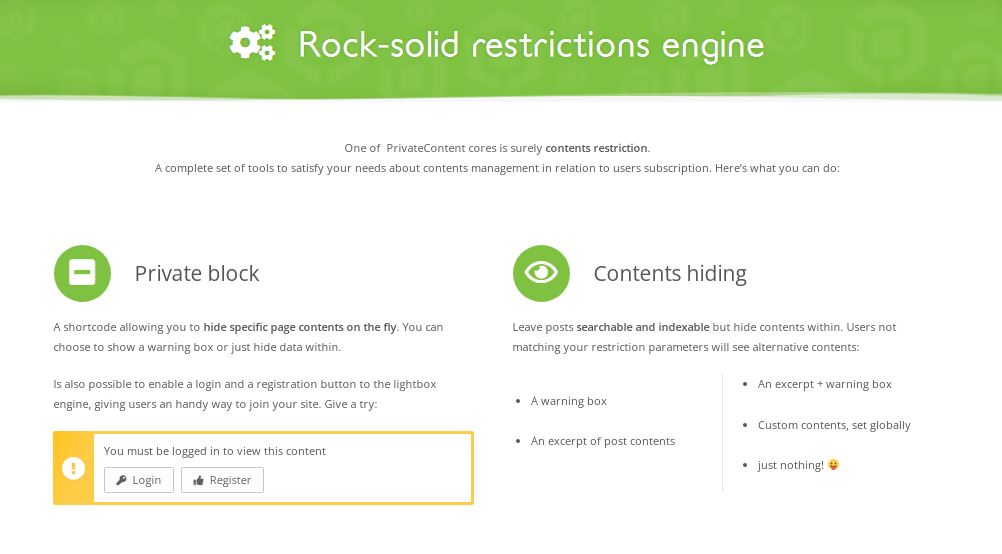 Best Features:
Complete, in-depth restrictions for WordPress sites
Skin builder included
Smooth and intuitive UI
PrivateContent is a unique content restriction plugin that is friendly to both regular users and developers. With PrivateContent, you can hide different parts of your WordPress site such as widgets, blocks, and even comment sections. You can also use PrivateContent to generate flexible private pages in less than a minute.
Additionally, PrivateContent allows full website restriction in one click. This is great for hiding unfinished or broken websites scheduled to be fixed. PrivateContent will also help you track the activity of logged-in users due to Google Analytics integration. Now, you can easily determine how users react to your website's restricted or viewable content!
Other useful features of PrivateContent include form creation (with custom skin), advanced user management, multilevel login setups, and flexible integration with other WordPress plugins.
Conditional Blocks: A Reliable Content Restriction Alternative
Most content restriction plugins offer multiple services or functions in one package. While these services are beneficial, they might shift your focus away from content restriction itself. In this case, the content restriction plugin that you can use is Conditional Blocks.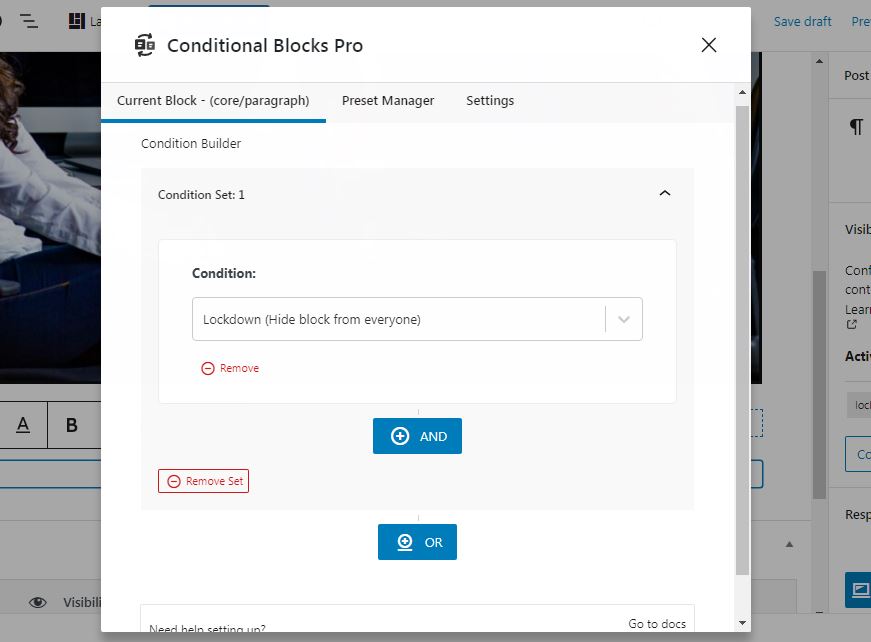 Conditional Blocks is a WordPress content visibility plugin that offers 24+ conditions. All of these conditions are customizable, and they can even be combined to achieve a unique effect.
Here's an example: you can set a WooCommerce condition based on a customer's total spending on your site. This way, the customer can or cannot see the block that you've set up. It's also possible to go further by adding a geolocation-based condition or other non-WooCommerce conditions.
These are some of the powerful conditions of Conditional Blocks:
Responsive (condition based on user devices)
User Role (condition based on user roles)
Date Schedule Range & Recurring (condition based on a specific date range)
CPT (condition based on custom post type – useful for Full Site Editing)
Plus, Conditional Blocks has a functional AND/OR logic function built for combining conditions. The function also allows users and developers to build custom conditions through a seamless and powerful API.
Final Reminders
Installing a content restriction plugin is just a basic step. Once you've installed the restriction plugin that you want, you must explore its features accordingly. Who knows? Maybe you might discover a unique function that can increase the effectiveness and exposure of your website!
Do you have a suggestion for a new content restriction plugin? Contact us today and we'll consider your suggestion!