Adding Gutenberg plugins to your website is similar to adding accessories and components to a machine. Each plugin can do something for a website depending on its core function and design. Gutenberg plugins are also relatively easy to install and manage.
Are you looking for some useful Gutenberg plugins for your website? Well, we've got you covered. This article will cover some of the most flexible and useful WordPress plugins in 2022. All of the plugins that we've selected have different functions such as content management, visibility adjustments, marketing, and workflow improvement.
What are the Gutenberg Plugins For Your WordPress Site?
Kadence Blocks – Seamless Site Creation with Smart Blocks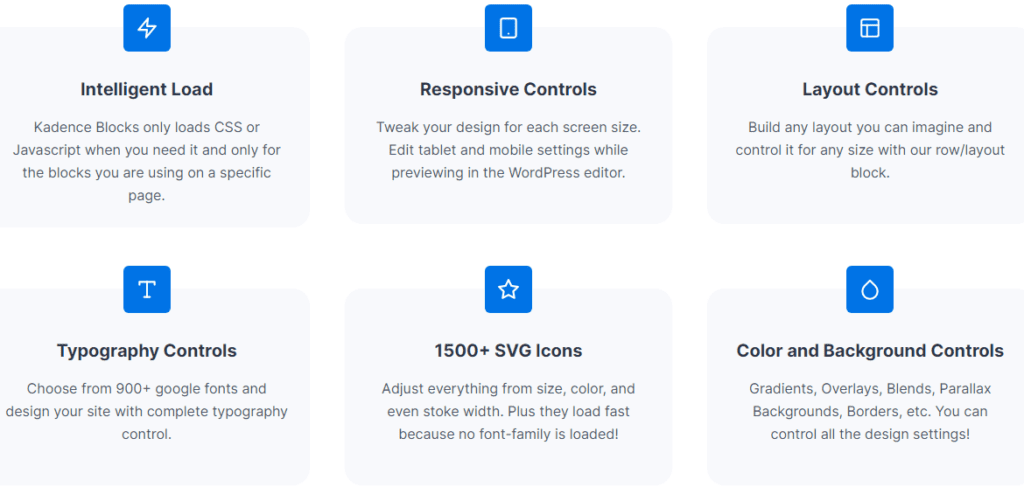 Features:
No-code, easy-to-use system
Intelligent load (Java and CSS are only loaded if needed)
Full typography control with 900+ fonts
Advanced layouts and backgrounds
Visibility settings for blocks
Kadence Blocks is a lightweight plugin that offers the right tools to help you build a high-quality WordPress site. The plugin runs under a no-code system to accommodate fresh beginners and professionals alike.
The Kadence plugin relies on an intelligent load functionality to speed up the response time of your website. Basically, Kadence only loads Java and CSS whenever it is needed for specific blocks. Kadence Blocks also has numerous configurable options that apply to all new blocks, effectively helping you save time in a project.
The premium options of Kadence Blocks are also interesting. You can access flexible on-screen animation functions, dynamic content elements, customizable icons, and custom scripts for every page.
Rating: 8/10
Ultimate Blocks – The Best Plugin for Bloggers and Marketers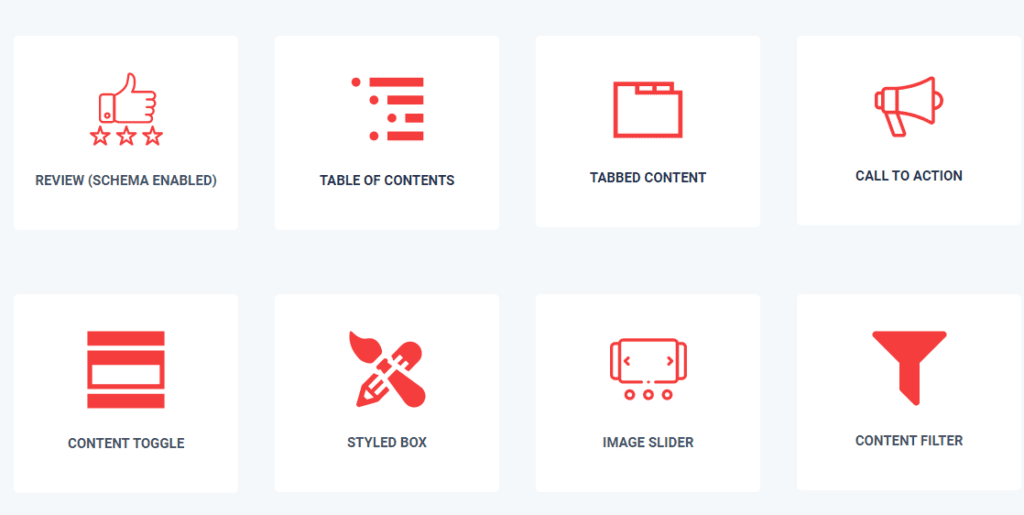 Features:
Customizable review block with schema
Tabbed content style for any block
Fully customizable CTA block
Fast and responsive image slider
Modifiable social sharing block
Ultimate Blocks is an easy-to-use Gutenberg plugin designed for professional bloggers, marketers, and site owners. The plugin contains different helpful functions that can be embedded easily into any post or page. Plus, Ultimate Blocks doesn't have restrictive paywalls or membership options. All of the plugin's features are available for everyone.
Some of the most popular blocks of Ultimate Blocks are review with schema, table of contents, tabbed content, CTA, content toggle, image slider, social sharing, customizable & styled list, and an integrated block manager. The plugin's blocks are also SEO-friendly and code-optimized to attain great site speed.
Ultimate Blocks is great for any professional or hobby website. It's also easy to install and manage within the WordPress dashboard.
Rating: 8.5/10
Stackable – A Multi-Functional Gutenberg Page Builder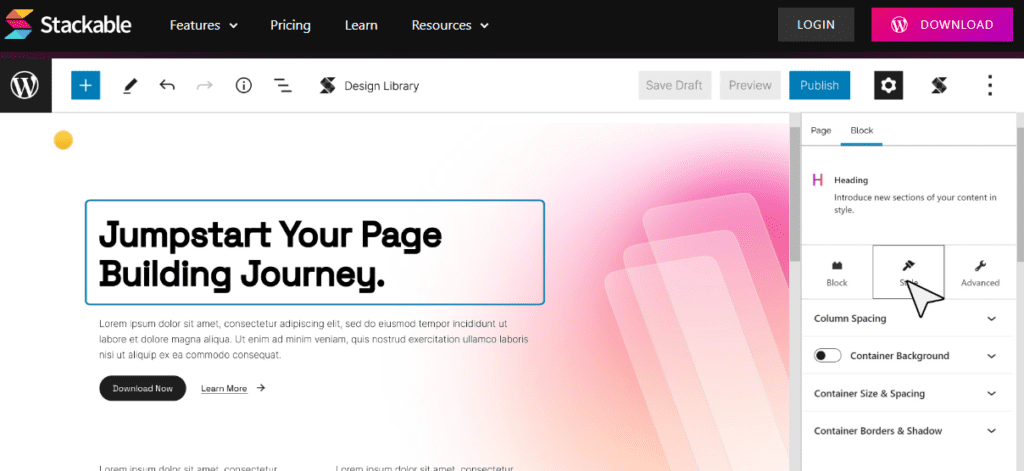 Features:
Lots of ready-made designs and UI kits
Highly customizable content blocks
A large selection of page layouts
Dynamic content functionalities
Efficient role manager option
Stackable is a powerful yet lightweight plugin equipped with reliable page-building functions, conditions, and design kits. The plugin is known for its large selection of UI kits that can be installed easily through the Stackable Design Library.
Flexibility is one of the real strengths of the Stackable plugin. You can use the plugin for professional marketing purposes or for better content management. If you own an agency, you can utilize all of the available functions of Stackable based on your goals.
The main focus of Stackable is lightning-fast web design. Each design kit offered by the plugin can be activated in the WordPress dashboard easily. Plus, Stackable allows full customization of design kits and layouts. Along with deep customization settings, Stackable also has dynamic visibility functions like query loops, block-based conditions, and built-in custom fields.
Rating: 9/10
CoBlocks by GoDaddy – Best WordPress Page Builder for Devs and Regular Users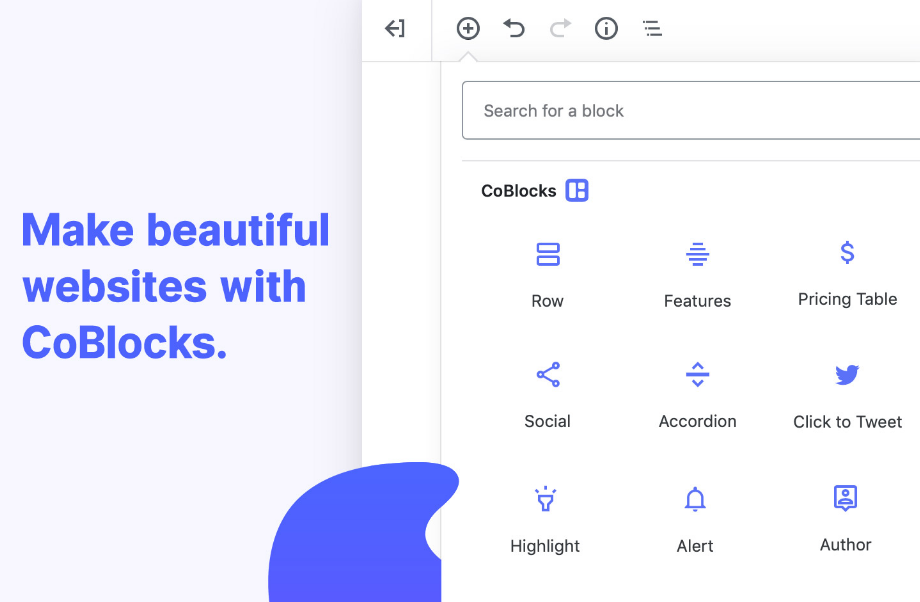 Features:
Innovative page builder with deep customization
Lots of beautiful available blocks
Custom typography setting
Free Go theme (downloadable with the plugin)
100% free
Built by GoDaddy, CoBlocks is a complete and customizable page-building plugin with more than 40 embeddable blocks and functions. Aside from the deep customization capabilities of CoBlocks, the plugin is completely free for everyone to use.
Some of the well-used blocks offered by CoBlocks are Stacked (stackable images), GIF, Counter, Image Collage, Service column, Accordion (collapsible items), Pricing table, Image carousel, Social Sharing buttons, and Customizable Textbox. These ready-made blocks are compatible with WordPress functions and other plugins.
While CoBlocks is great for all WordPress users, it's even more advisable for professional developers. The plugin offers a chance for in-depth collaboration through GitHub. This initiative can lead to the creation of more plugin features, options, and embeddable content blocks.
Rating: 9/10
Conditional Blocks – A Powerful WordPress Visibility Plugin
If you're looking for a plugin that will help you manage the content visibility of your website, you should check out Conditional Blocks. While other plugins are mainly focused on easy website creation and page-building, Conditional Blocks is all about better content management.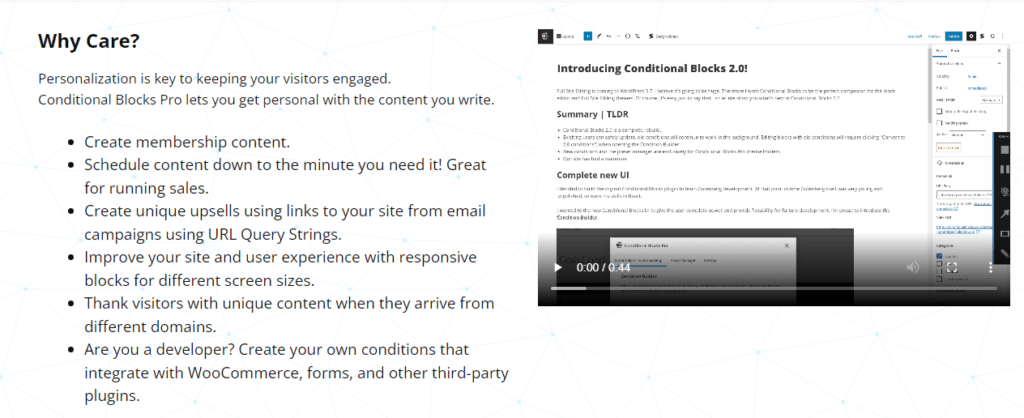 Conditional Blocks has different dynamic content visibility conditions that can be customized. All of these conditions are easy to use, straightforward, and definitely useful in the long run.
Do you want to narrow down some pieces of content for registered site members? Try Conditional Blocks' Logged-In user condition.
Are you worried about an unfinished content block being seen by thousands of users? No worries! Just lock the content down with the Lockdown condition.
Have you prepared special content for hyper-targeted user groups? Conditional Blocks got you covered with the User Role condition, effectively distributing content to a preferred user role, one block at a time.
The list of conditions doesn't stop with the options above. Conditional Blocks has 14+ conditions for all interested users. Additionally, the plugin offers WooCommerce integration with conditions based on cart products, cart value, and metadata about customers.
Lastly, Conditional Blocks is flexible enough to be used for personal, professional, or large-scale reasons. Simply check out Conditional Blocks' documentation and see the conditions that can benefit your project!
Conclusion
Sometimes, choosing the right WordPress plugin for your website will make a big difference. But before you make a choice, always take note of your website goals or project preferences. This way, you won't have a hard time picking the best plugin.
Once you're ready, you can just start with Conditional Blocks. The plugin has some free dynamic visibility conditions that you can try today!