The WordPress Block Editor can accomplish many great things regarding site creation. Through creativity and proper block customization, you can make the best WordPress website from scratch.
When Full Site Editing (FSE) was introduced, it further improved the usefulness and capabilities of the Block Editor. Full Site Editing changed the way WordPress sites are typically created, treating every site as a fully customizable content block. This simply means a WordPress site can be made by activating an FSE theme and editing its sections.
In this article, you will learn about the mechanics of FSE and the reasons why it is important. Additionally, you will be able to select from the FSE themes that we've recently reviewed.
What is Full Site Editing?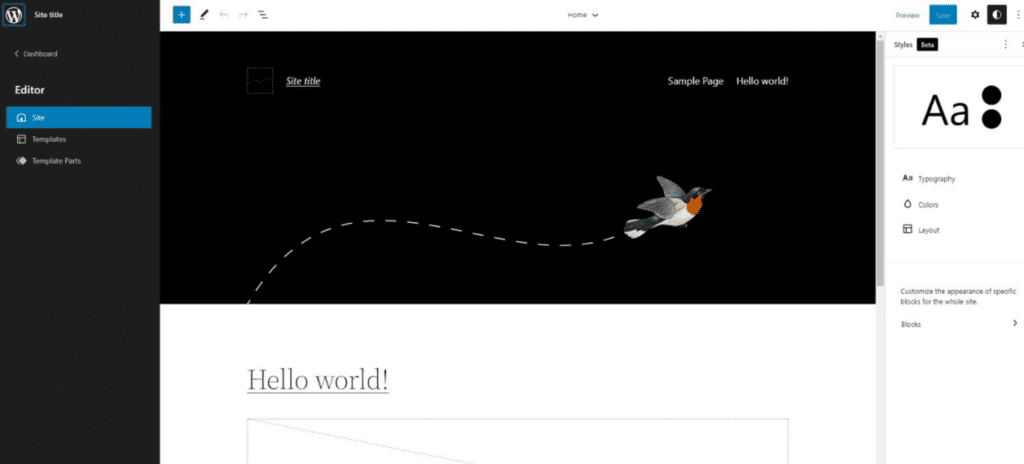 In a nutshell, Full Site Editing is a new WordPress mechanism that focuses on designing and styling a website using "content blocks". Normally, a WordPress site is like a complicated machine filled with various parts and components. Each part of a WordPress site was edited in a different place, and themes could introduce their own content/layout builders. This made it hard to switch themes later.
With Full Site Editing, however, a WordPress site becomes seamless. Each content block makes up every part of the website from headers, and content, to the footer. Full Site Editing themes take care of the styling of your existing blocks. This means themes now only handle the "look and feel" of your website, while content creating is standardized with WordPress Blocks.. Such ease of access is one of the reasons why FSE themes have become popular among website owners, bloggers, freelancers, and even web enthusiasts.
Here are the advantages of Full Site Editing:
A lower learning curve for beginners and intermediate users
Faster to edit template parts and sections
Many professional-looking themes to choose from
Themes can be viewed prior to installation
Continuous updates from theme designers
FSE themes are adaptable to match different niches
Advanced WordPress Blocks can be used anywhere in the site design
Now that you know how Full Site Editing works, you should check out some interesting FSE themes. We picked the best themes that can be used for different niches.
The Best Full Site Editing Themes for Your WordPress Site
Poe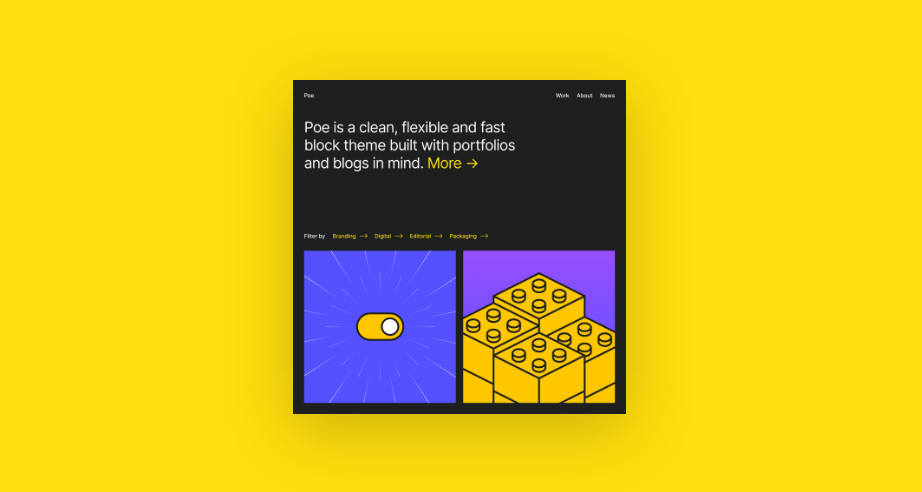 Best for professional portfolio websites and blogs
Poe is a visually appealing FSE theme that has clean typography and vibrant colors. Each block pattern of the Poe theme is highly customizable and compatible with WordPress Global Styles. Poe is also user-friendly because it allows one-click site customization through pre-built themes.
While Poe can be used for different niches and purposes, it's great for portfolio sites featuring achievements, career experience, and personal blog entries. Poe's block patterns can also be customized to match a user's unique preference or visual taste.
Wei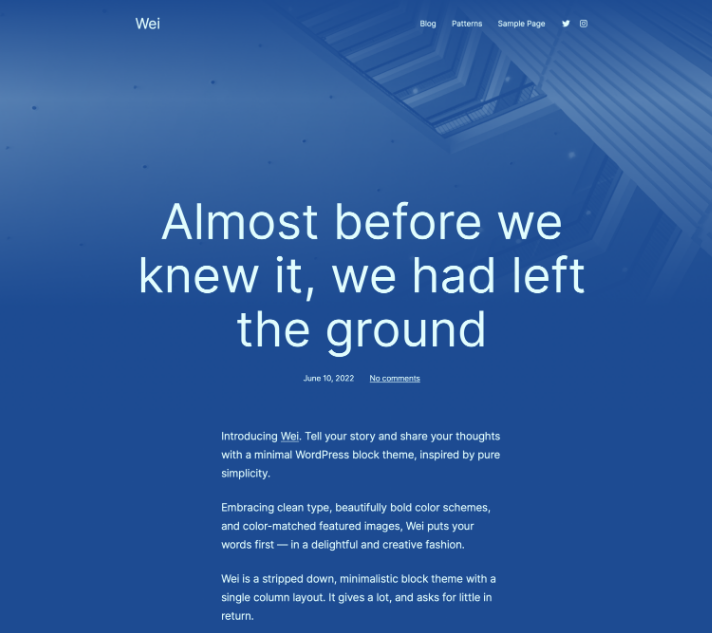 Best for minimalistic, content-focused sites
Sometimes, all you need for a beautiful website is a minimalistic FSE theme like Wei. This FSE theme has a professionally clean style with rich colors and remarkable background images. Installing the Wei theme will turn your website into a simple repository of interesting content with unique accents. Plus, the Wei theme will let you change color accent in one click due to its compatibility with WordPress Global Styles.
Wei offers four style variations that can be switched around anytime. You can even change headers and footers to match your preferred style.
Wabi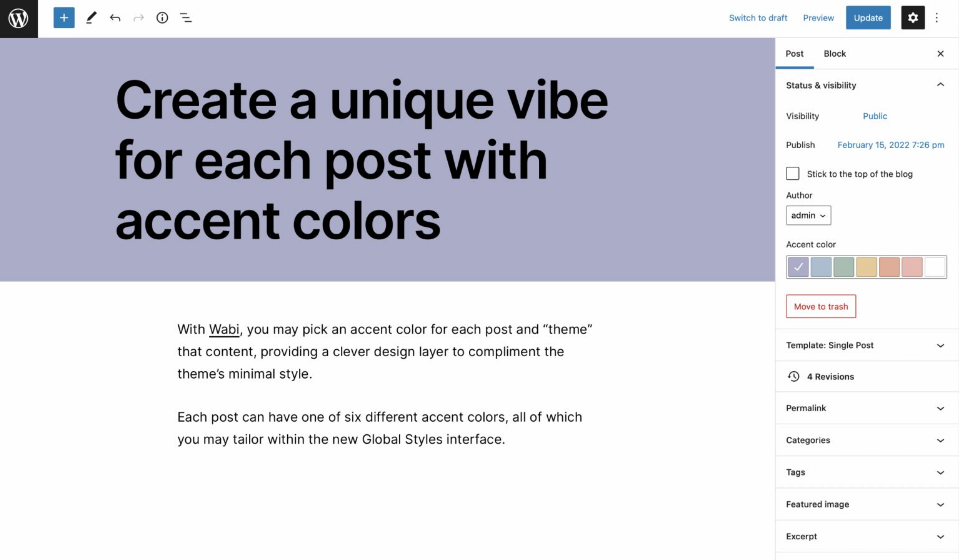 Best for journal-style sites, curation sites, and personal blogs
Made by Rich Tabor, the creator of Wei, Wabi is another simple FSE theme focused on digital storytelling. Wabi combines neat typography, well-defined lines, and dynamic accent colors that can fit any website's visual style. You can also use Wabi's accent colors to increase the variety of your site's scheduled posts.
Wabi is great for online journals and sites with lengthy text posts. Curation sites can also benefit from Wabi's accentuated block patterns and multiple style variants.
FrostWP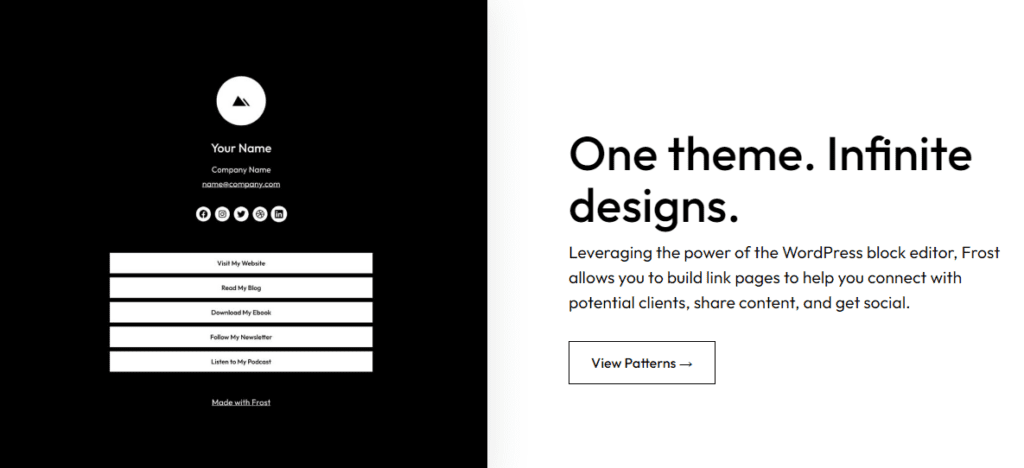 Best all-in-one theme for most websites
FrostWP is a simple yet powerful FSE theme that can guarantee infinite layouts possible. Whether you're building a professional website or a media-heavy blog, you can never go wrong with FrostWP. Some of the best block patterns of FrostWP are call-to-action (CTA), header, footer, hero section, podcast, pricing tables, and testimonial page. FrostWP also offers contrasting accent colors (i.e. black and white) that can be mixed and matched accordingly.
Due to FrostWP's flexibility, it is an excellent choice for beginners and pros alike. The theme is also a great match for most website niches.
Basti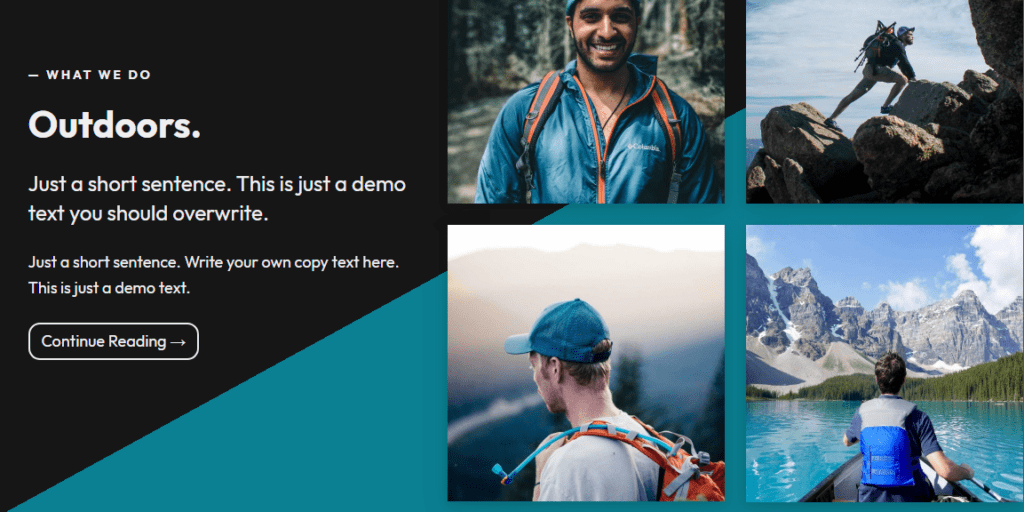 Best for complex WooCommerce online stores and sites
It's important for a WooCommerce online store to have a striking visual presence. After all, branding can make or break an online store's success. To make your online store more appealing than ever, you should check out the Basti FSE theme. Basti starts out with four impressive layouts focused on popular niches like fashion, outdoor, Yoga, and marketplace. All of these layouts can be customized further to match the unique appearance of your online store.
Basti allows easy customization of headers, footers, and other block elements. Plus, Basti is mobile-friendly, effectively targeting potential customers who are always on the go.
Hansen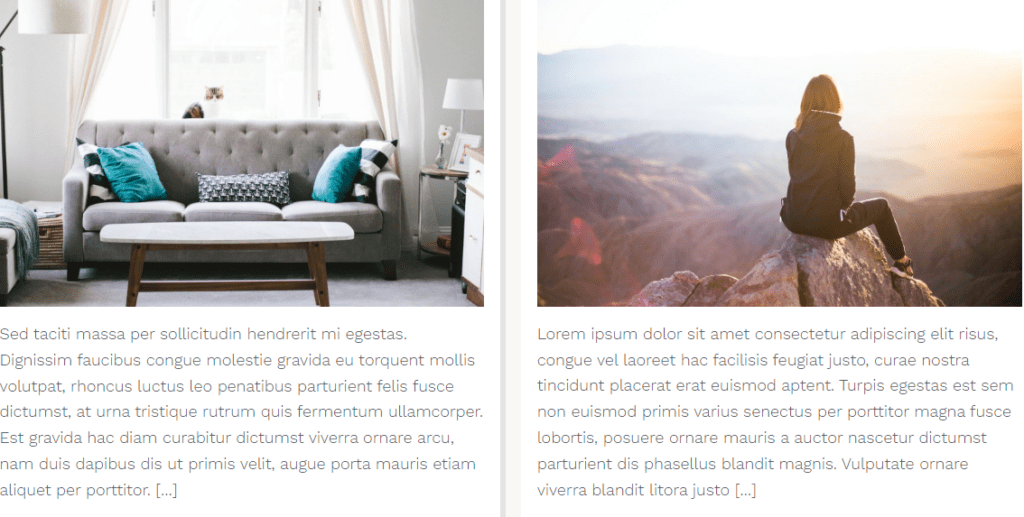 Best for professional, multi-page websites
Users who want to experiment with different website styles can benefit from the Hansen FSE theme. This WordPress theme contains numerous customizable page templates that can fit any niche. Hansen's block patterns also look more formal and professional.
The Hansen theme is great for websites that feature exclusive products, services, and long blog posts. Plus, Hansen's page templates can be as simple or as complicated as they can be, depending on users' preferences.
Tove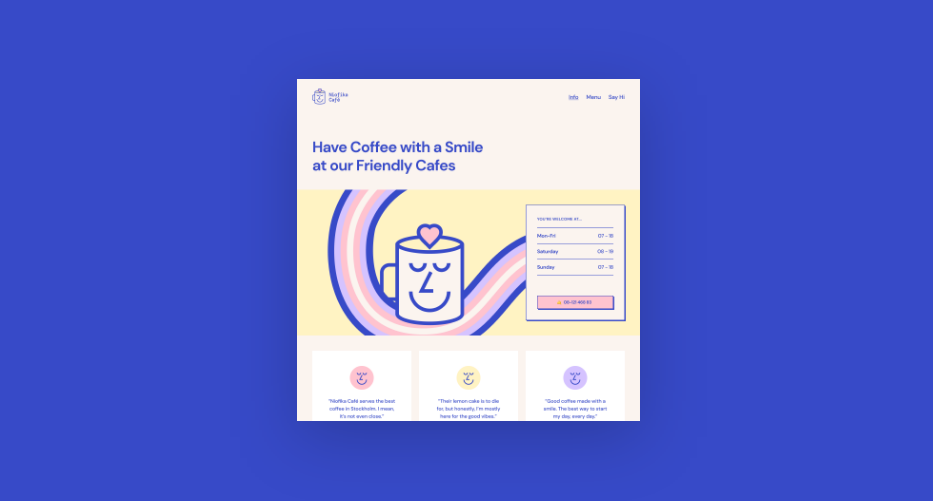 Best for websites and blogs with a relaxed atmosphere
Tove is a simple FSE theme with a minimalistic and picturesque layout. Just like other FSE themes, it can be installed directly on your WordPress site. Plus, you can edit the style of Tove's block patterns in any way you want.
Due to its simple yet relaxing style, Tove can be an excellent theme for restaurants, cafes, and hobby blogs. However, Tove is flexible enough to match the aesthetics of other popular niches.
WOWMALL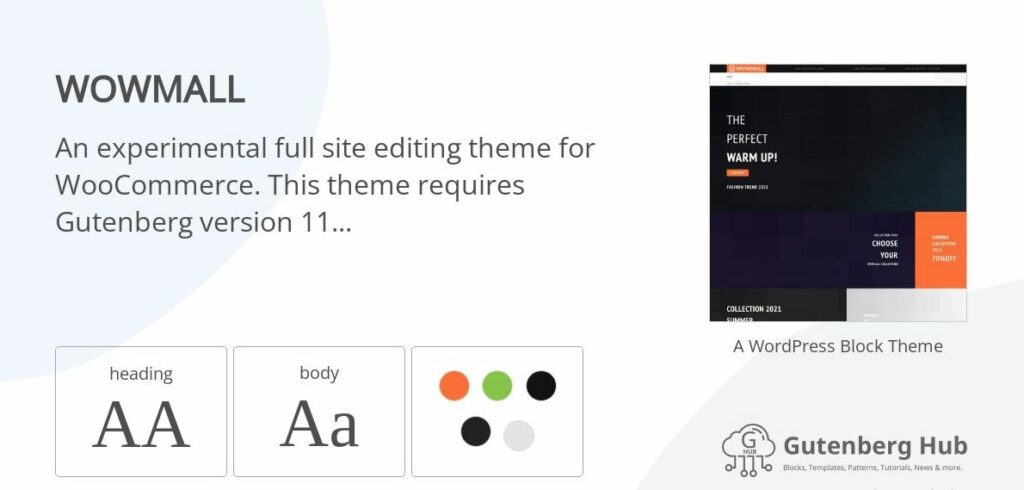 Best for WooCommerce-integrated sites and online stores
WOWMALL is an interesting theme that can be integrated with WooCommerce. The WOWMALL theme contains dozens of block patterns to match any type of online store. Whether you're selling branded products or artisanal creations, you won't be disappointed with WOWMALL's semi-minimalistic yet professional aesthetic.
WOWMALL requires Gutenberg 11.6+ in your WordPress site. It will also run with WordPress 5.5+ and PHP 7.2+.
Gutena
Best for corporate profiles, professional sites, and LMS dashboards
Gutena is a formal-looking FSE theme that contains modern block patterns and layouts. Each block pattern has an emphasis on branding and big images with lots of space for other types of media. More importantly, Gutena is well-optimized for speed and greater stability.
If you're concerned about your website's professional branding, you can start with the free Gutena FSE theme. The theme contains all of the visually appealing block patterns that you'll ever need.
Dynamic Visibility and FSE
One of the best ways to get the most out of any FSE theme is to utilize a dynamic visibility plugin like Conditional Blocks. Through this plugin, you can show or hide specific content blocks by using embeddable conditions.
A block integrated with a condition can be used as a special piece of teaser content for your site visitors or readers. More importantly, Conditional Blocks' conditions can help you narrow down site content for marketing or upselling.
Conditional Blocks offers free conditions and 14+ pro conditions.
Final Reminder
Full Site Editing is possibly the future of WordPress. As the years go by, you will encounter many full site editing themes with different styles and purposes.
Here's a recap of the best themes that you can use today:
Poe
Wei
Wabi
FrostWP
Basti
Hansen
Tove
WOWMALL
Gutena
After choosing the best FSE theme for your site, don't forget to use Conditional Blocks. In this way, you can modify the visibility settings of your site pages – one block after another!