In this post, we'll show you two ways you can schedule content with WordPress using Gutenberg, the Block Editor. Did you know you can schedule content on the individual block level? Today we're going to show you how!
But first, why would you want to schedule content?
There are so many reasons, but the number one reason is that scheduling content makes your life so much easier! You don't have to remember to create your birthday deals on the day, you can have them scheduled weeks in advance!
You can have a website that displays the relevant daily deals to customers telling them the deal is active now.
You can easily display specific information during different times of the day without going in and constantly changing settings.
To follow the steps below, you'll need to have installed the Pro version of our Conditional Blocks Plugin.
NOTE that the timezones and times are based on your current WordPress settings and not your current location.
How To Schedule Content For A Date Range (start and end date)
Sometimes you just want to display content for a limited amount of time. For example, a limited time discount coupon for events such as Black Friday or end of financial year sales.
To get started, create a block with your desired content in it. If you don't know the basics of how to use the WordPress Block Editor, check out our beginner's guide here.
Do NOT hit update before you've added the conditions or your block will go live straightaway.
Select your block and go over to the conditions tab in the sidebar and click configure conditions.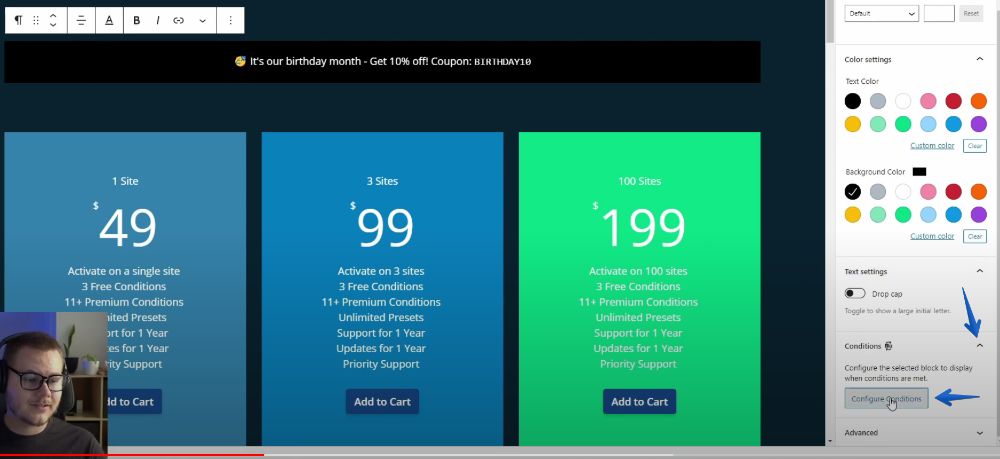 The Condition Builder will pop up, where you can see and edit any active conditions. Click Add Condition.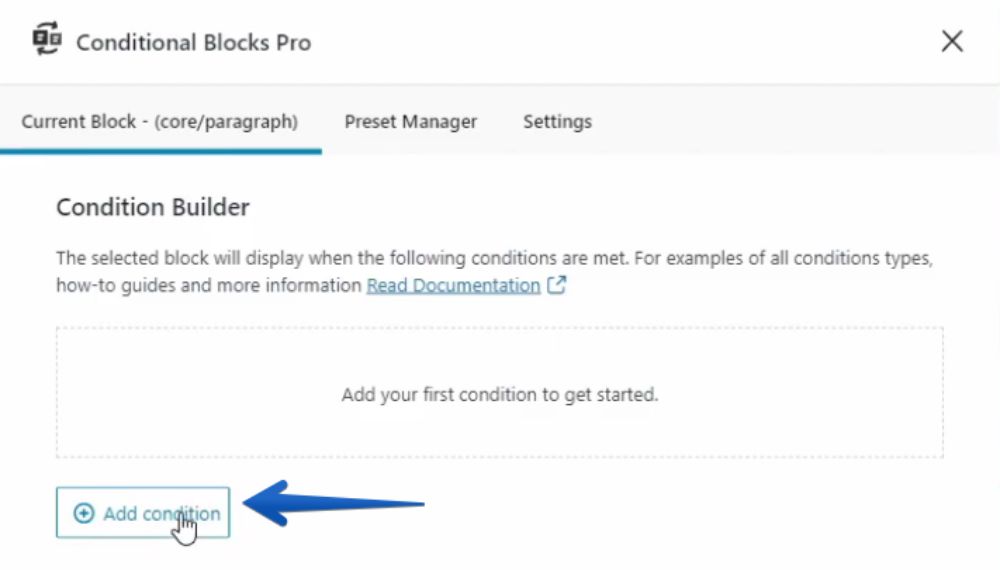 Next, hit the drop down menu and select Date – Range.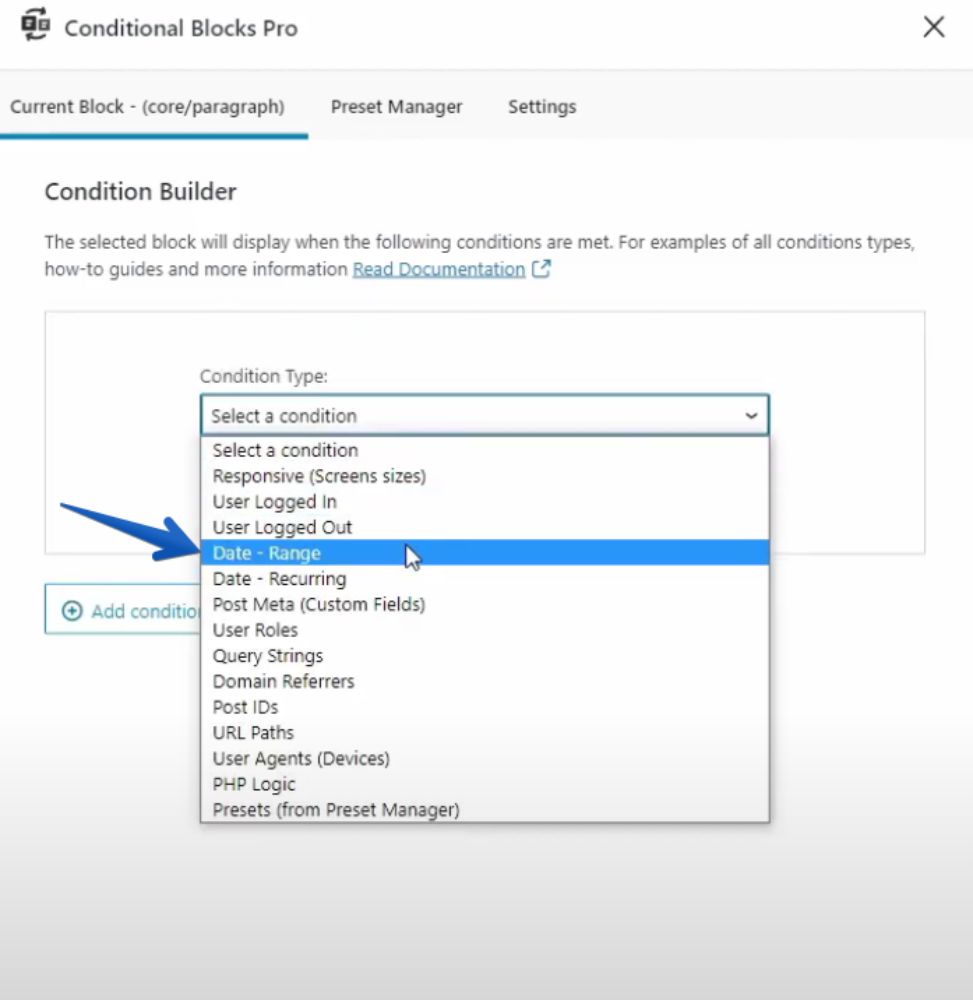 Then simply set the start date and time you want your block to appear on your site.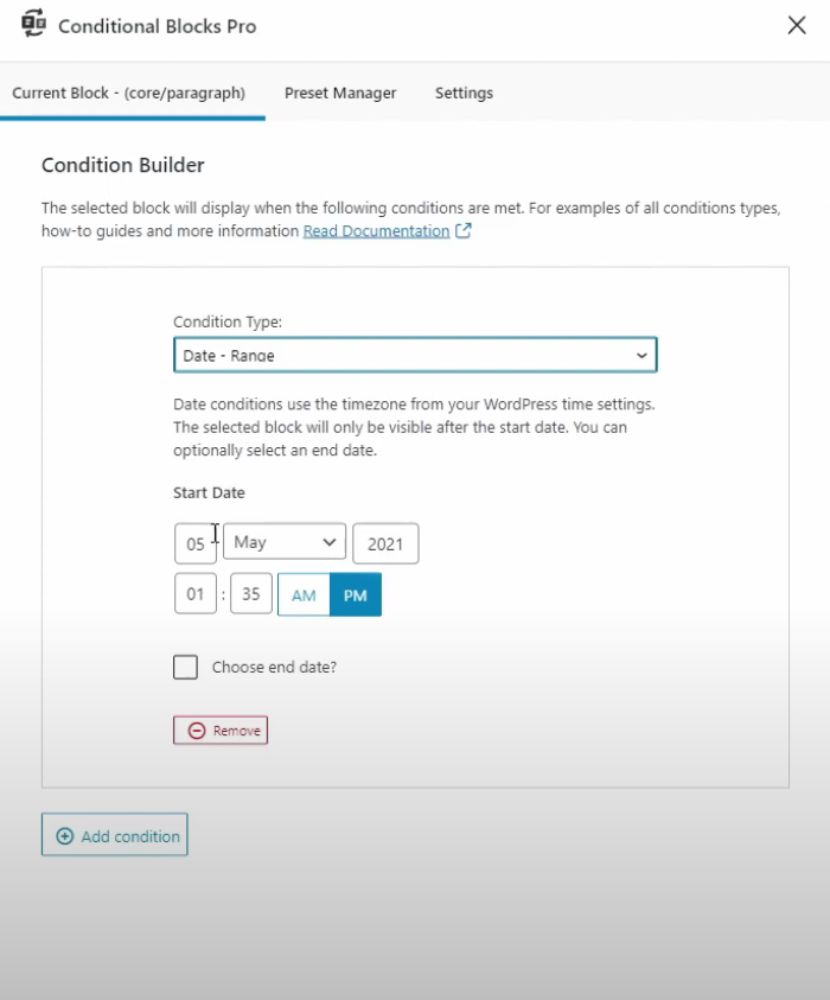 If you want your block to stop displaying after a certain date, then click choose end date. If you don't have a set day you want your block to stop displaying, then do not select this option. Then your block will continue to display on your site after your start date.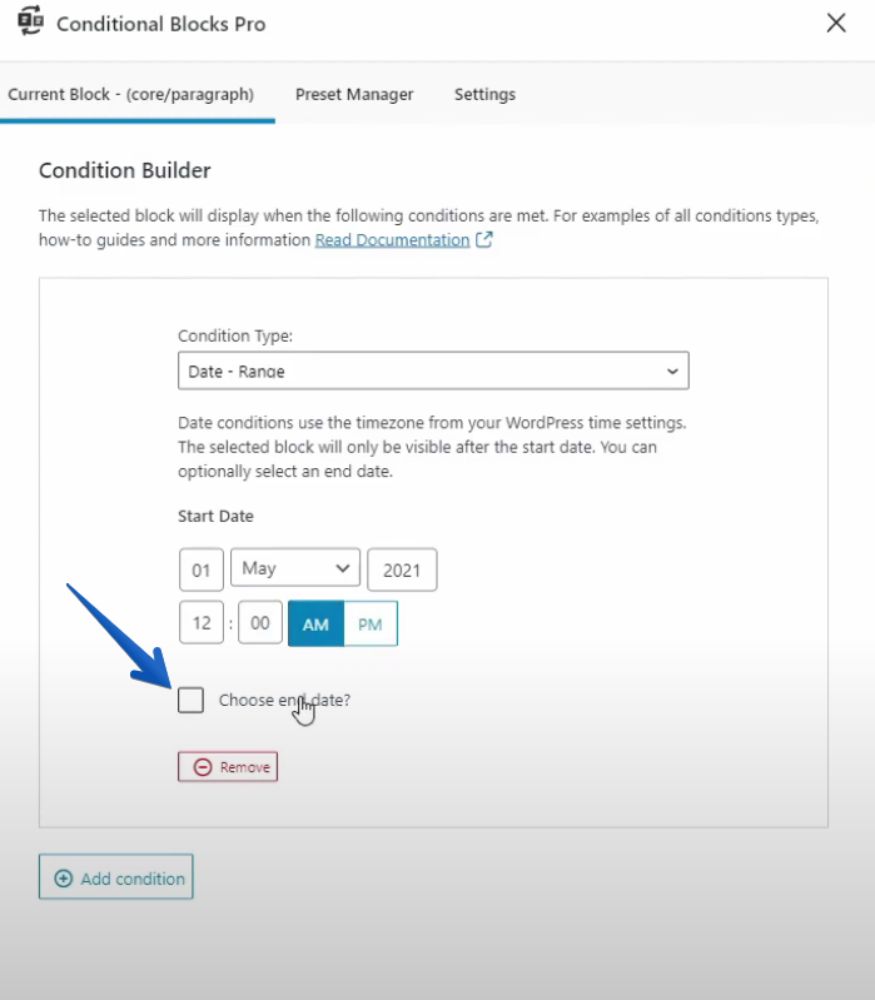 Assuming you want to set an end date, simply enter in your end date and time in the boxes that appear below the choose end date option.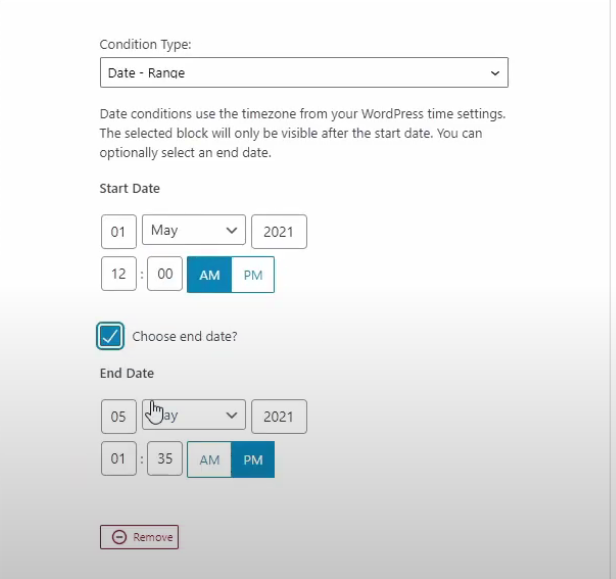 Then, simply click away from the Condition Builder to exit it and hit update.
And that's it! You're done! Your block will appear on your site between your desired start and end dates.
If you would like your block to appear again a few days/weeks/months later, simply go into the Condition Builder and add another condition, select date range again enter the second set of date ranges there.
How To Schedule Content On A Recurring Basis
You can schedule blocks to only appear during specific time slots, for example between 12:00 – 3:00 every day.
You can also schedule blocks to appear only on specific days of the week, for example to display all your deals on Wowza Wednesdays.
Simply create your block, click configure conditions in the sidebar to open up the Condition Builder. Select Add condition and hit the dropdown and find the Date – recurring option.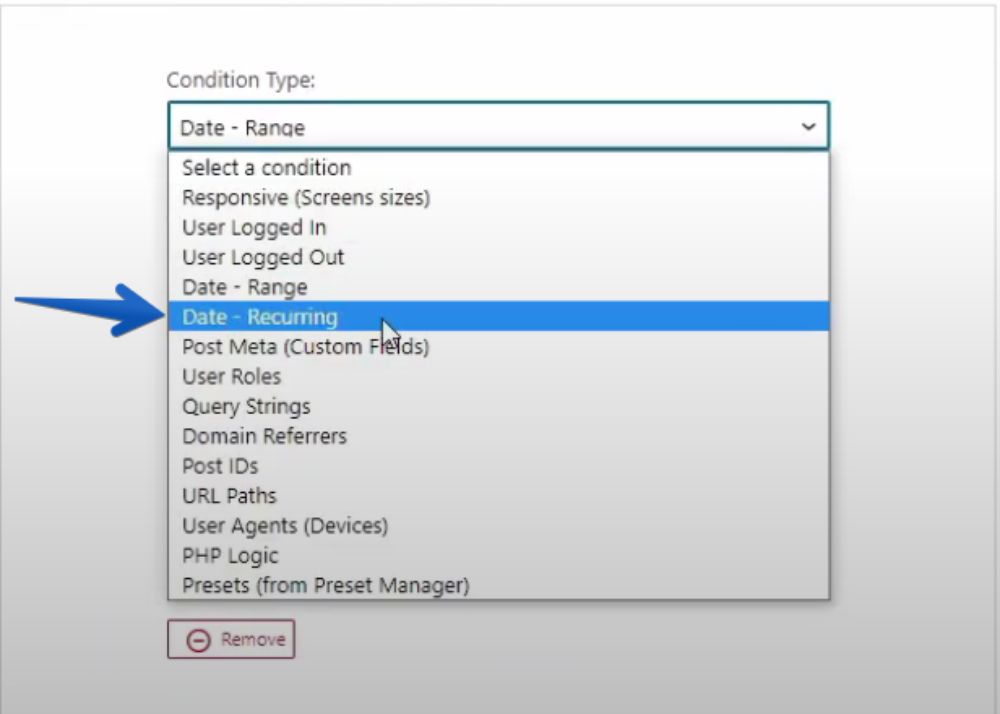 Then simply select the days you want your block to appear and enter the start time and end time. For example, if you want your block to appear from 3PM to 5PM Monday to Friday, simply enter 3PM as the start time and 5PM as the end time and select each day from Monday through to Friday. Then simply exit the condition builder and click Update.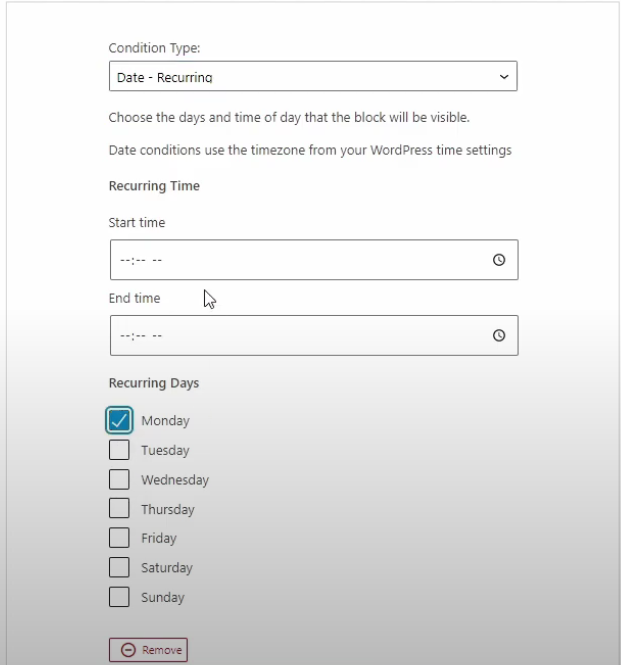 If you want your block to display at different times on different days of the week, simply create a new condition for each timeslot. For example, if you want the block to display on Mondays between 9AM and 11AM, and on Wednesdays between 12PM and 3PM, you will need to create two separate conditions for the one block.
How To Schedule Content For A Date Range On A Recurring Basis
Simply follow the steps to create the date range, and then select add condition.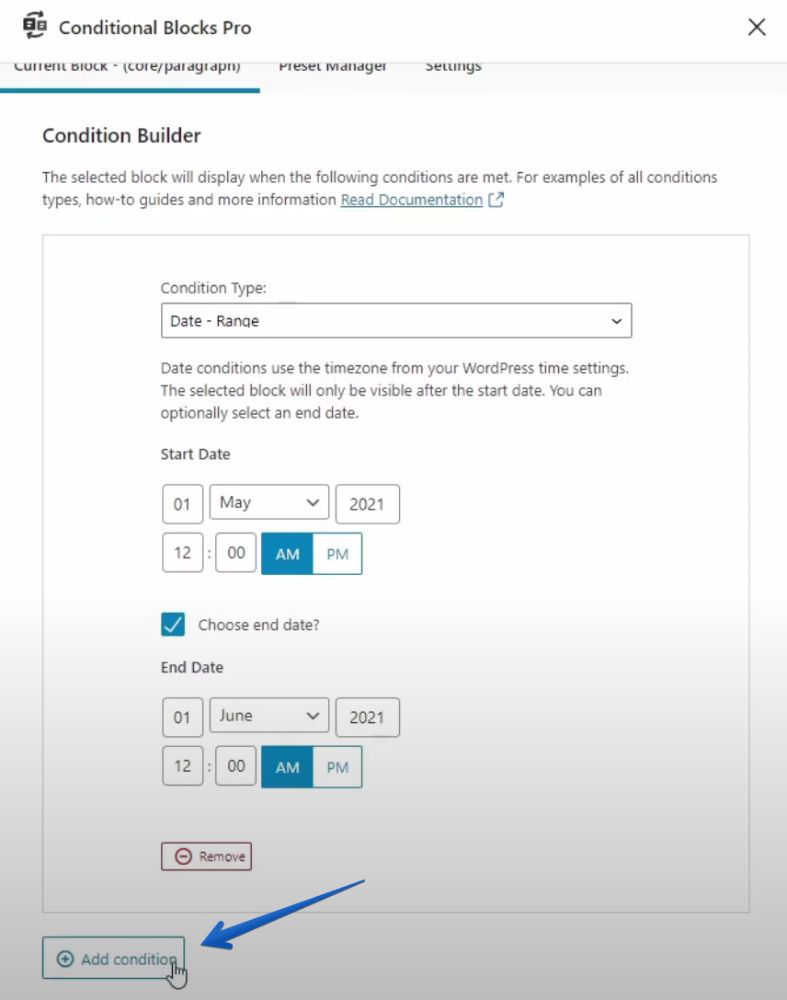 You can add as many conditions as you like and run them concurrently for the same block.
There's so much room for getting creative here. We'd love to hear about your use cases!