How to extend/renew a license key
The Conditional Blocks Pro license keys give you access to future plugin updates and ongoing support. However, if your license has expired you'll lose those benefits.
You may choose to extend an existing active license or renew an expired license.
Extending or renewing your Conditional Blocks license is easy.
Note: If you have an active payment subscription, your conditional Blocks license will automatically renew. You'll be notified via email before any payments are taken.

You can always view your active subscriptions from the account dashboard. Additionally, if your license has expired, you always have the option to renew it manually.
How to Renew Your Expired License?
Simply log in to your Conditional Blocks account. Navigate to the Licenses section and renew the one that expired.
You'll be redirected to the checkout, where you should see your license key.
Once you've finished the checkout your license will be renewed and ready to use on your sites again.
This process is straightforward and will take only less than a minute.

How to Extend An Active License?
Even if your license hasn't expired yet, you still have the option to extend it. By extending your unexpired Conditional Blocks license, you don't have to worry about due dates or features that will be automatically turned off.
Your license will be extended by 1 year from the original expiration date. If your license is due to expire/renew on the 10th of December, it will be extended by one year from that date.
These are the simple steps for extending your active license:
1. Log in to your Conditional Blocks account
2. Go to the Licenses section and simply click extend
3. Finish the checkout and your license will automatically be extended for a year.
Can I use coupons to renew or extend my Conditional Blocks license?
Since we truly care about our customers, we're happy to offer coupons for a license extension or renewal.
Here's how you can redeem the coupon for Conditional Blocks license:
1. Follow the steps for renewing a license above.
2. Once you're on the checkout page, activate the coupon by clicking the "Have a discount code?" button. Afterwards, just enter the code.
3. Complete the checkout and enjoy the Conditional Blocks plugin at a discounted rate!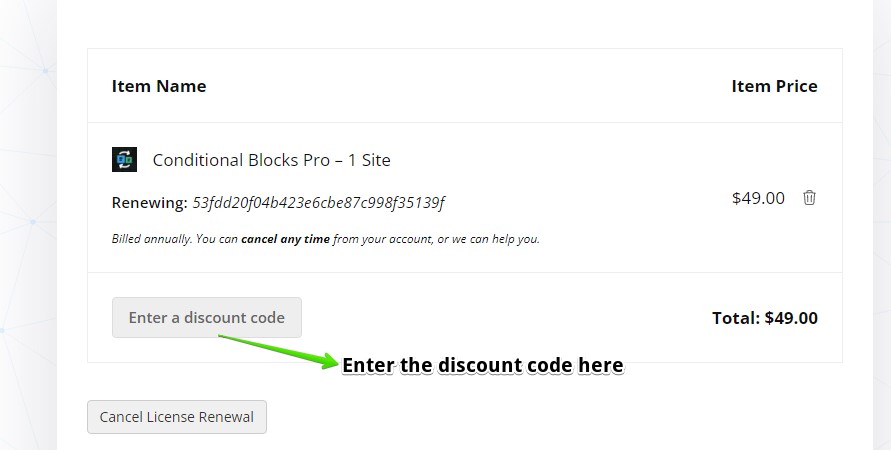 Note: A new subscription date with an expiry date will be created once the coupon has been applied. Additionally, future subscription payments will be scheduled at full price.
Do you have other questions about Conditional Blocks? You may check out our full documentation page or reach our support line.