This is a premium condition to change the visibility of WordPress content using Conditional Blocks Pro.
(P.S This block is a Reusable Block + Conditions. It won't be shown if you've purchased Conditional Blocks Pro)
Introducing Presets! Conditional Blocks v2 includes the new the Preset Manager, which allows you to create and name your own presets to use on multiple blocks sitewide. Presets are extremely powerful, allowing you to add multiple conditions to a single preset The idea is that you apply the preset to each block that you want to share the same conditions. That's a mouthful, so here's an example.
Managing premium membership content on your site with presets.
Presets are a great help if you have content on your site that you want to display to only logged in users. Simply go to the Preset Manager and create a new preset called "Premium Content only" and add the "Logged-in users" condition to the preset.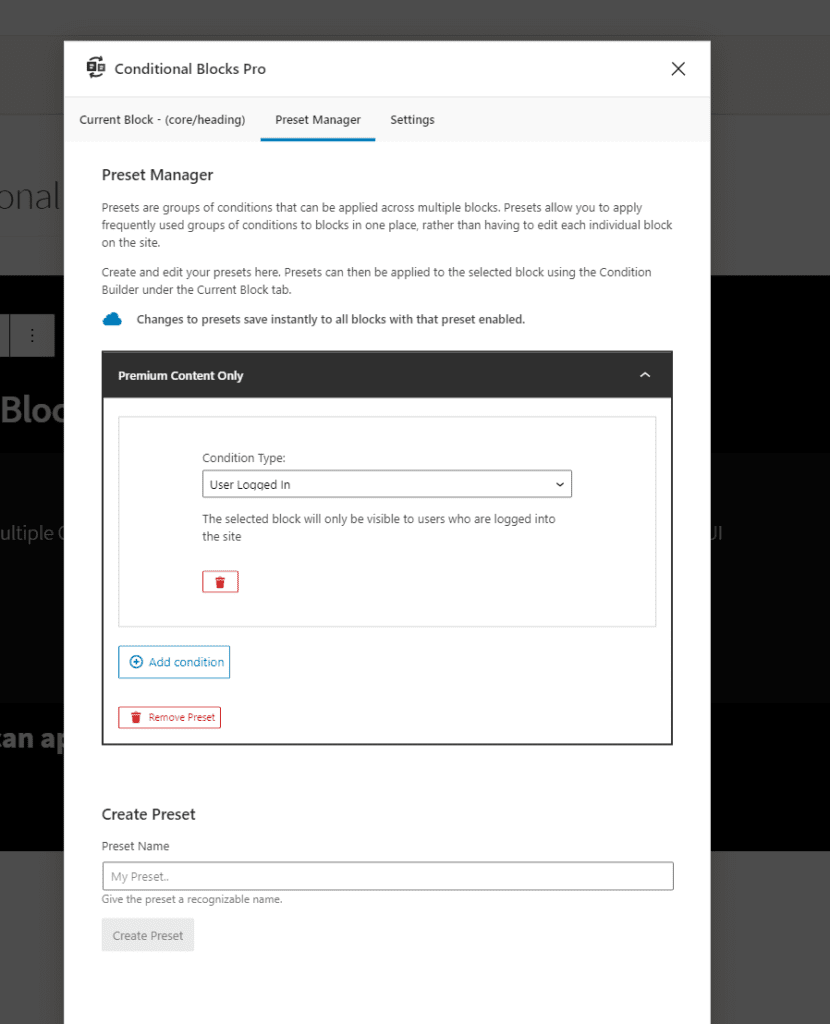 As you create blocks on your site with premium content, you should apply the preset of "Premium Content Only" to each block. Fast forward and you've got a booming membership site with premium content throughout the entire site!
If you change your mind and want to make all your premium content free all of a sudden, simply go into the Preset Manager and edit your Premium Content Only preset. Remove the logged-in users condition, and voila! Now all your premium content will be available to everyone for free.
You can also use presets to show content to specific membership tiers, with more exclusive content for logged in users who are a specific user role as well.
And did we mention that the presets are stackable?
Say you decide you want to have gold and silver memberships. You want some of your premium content to only be available to gold members. Simply create a new preset and add the "User Role" condition to the preset and select your gold membership role. Then you can add this preset on top of your Premium Content Only blocks that you want to be available to your top level customers only. That's it! All the blocks on your site that use the preset will display to gold members only. You don't need to alter conditons on each individual block anymore!