This is a premium condition to change the visibility of WordPress content using Conditional Blocks Pro.
(P.S This block is a Reusable Block + Conditions. It won't be shown if you've purchased Conditional Blocks Pro)
It's important to know that each page/post in WordPress has a unique ID. It's called the post ID.
Conditionally showing blocks based on the current post ID is great for reusable and Full Site Editing blocks in Gutenberg. Reusable blocks are blocks that you can place around your entire site.
As an example, you may have created a reusable block to display an email signup in the header of your website. The email signup is now displaying on your entire site, but you don't want it to display on your dedicated "Newsletter Signup" page. There's no need to have the signup form displayed twice, right? You can use the Post ID's condition type on your email signup block and exclude it from appearing on the "Newsletter Singup" page.
Post ID Options
It matches a list of Post/Page IDs
Doesn't match a list of Post/Page IDs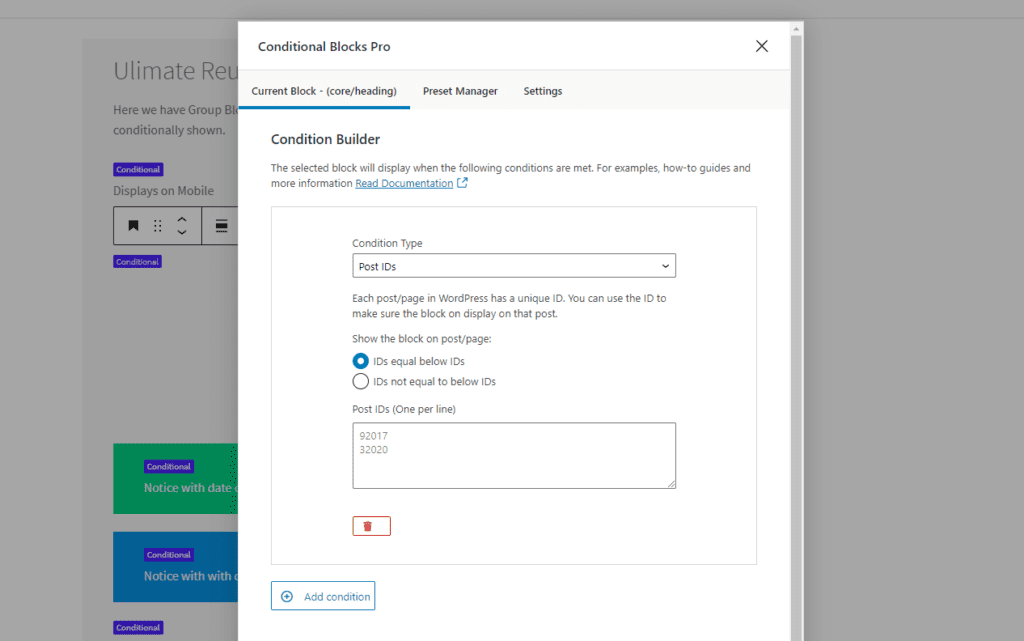 Each post/page or custom post type has a post ID. All post IDs are unique, so you can safely use this feature across your WordPress site.
How do I find the post ID?

You can find the post ID in multiple places around WordPress. The easiest way is go to editor for post and check the URL. You can see the post=1613, that's the post ID of this documentation, your ID/number will be unique.